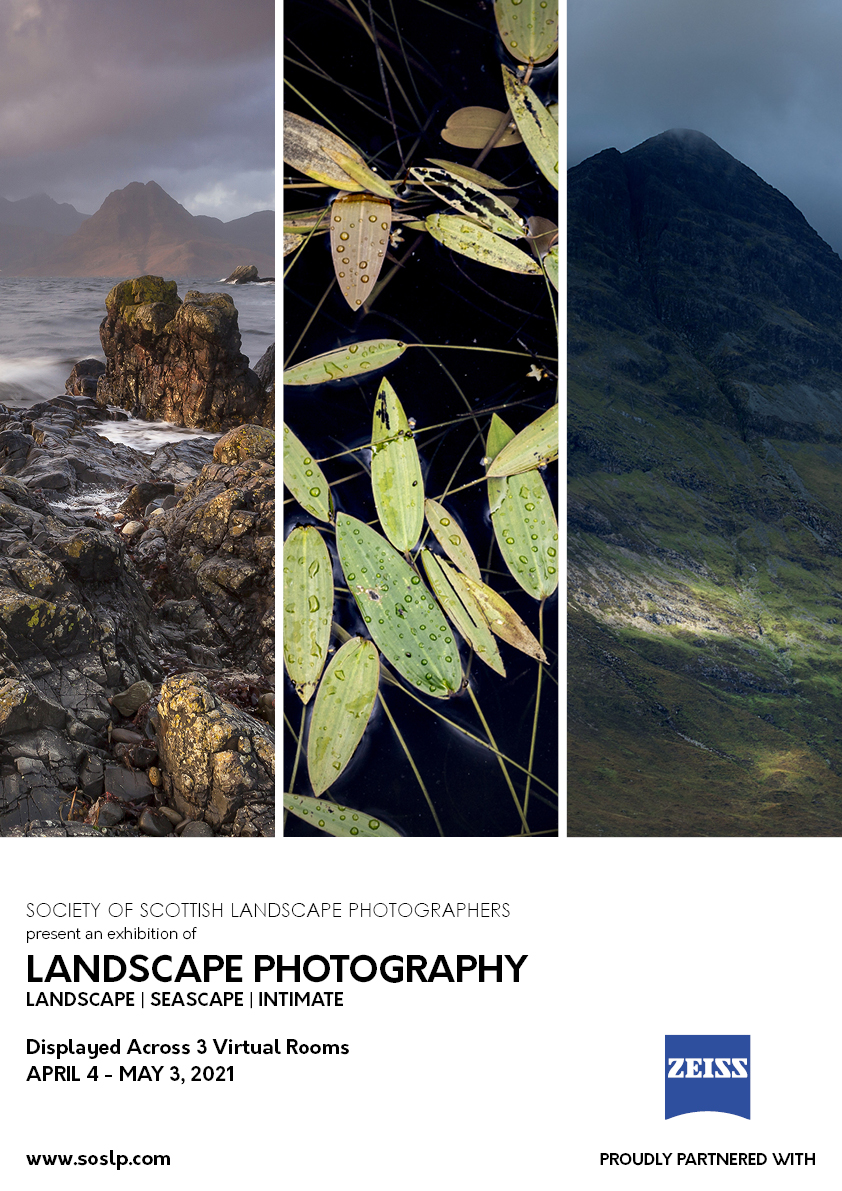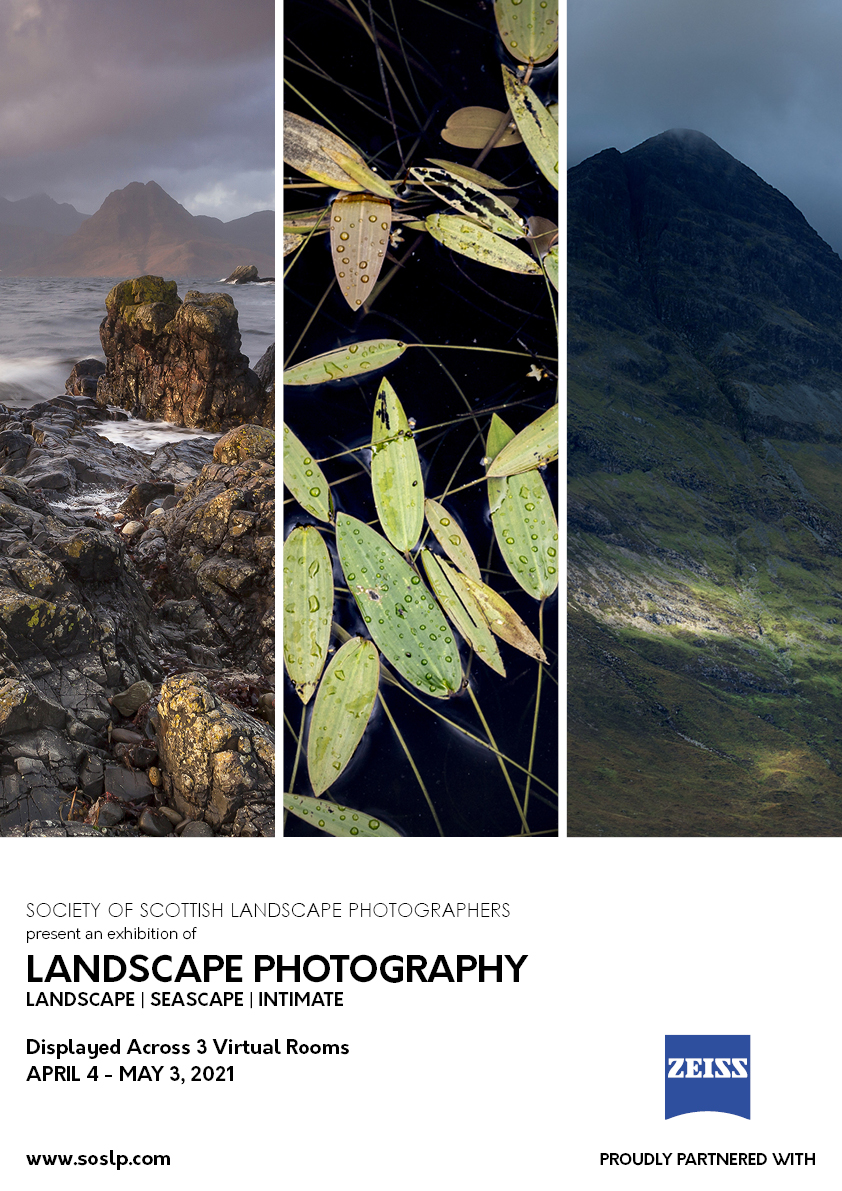 The Society of Scottish Landscape Photographers (SoSLP) will be presenting a virtual Exhibition of Scottish Landscape Photography from Easter Sunday, April 4th to May 3rd 2021. This virtual exhibition is a replacement for the Society of Scottish Landscape Photographers' exhibition that was due to be held in May 2020 at the Bield near Perth. This was thought to be the biggest exhibition of its kind ever to be shown in Scotland, however Covid-19 not only caused the cancellation in 2020 but again in 2021 .
This virtual exhibition will showcase the work of 44 of the Society's members (myself included) and will be spread over 3 virtual rooms with 148 images on show. The rooms you available to visit are Landscape, Seascape and Intimate.
If you have never been to an online exhibition before then this is the one to start with, you will be able to virtually walk around the rooms, get up close to the images and find out more about the artists and their images. The exhibition is created with state of the art virtual exhibition software and is free to visit. Many of the images images including limited editions will be for sale, but the Societys main aim is to promote environmental awareness and of course Scotlands beautiful landscape.

The Society say the show is promising to be a feast for the eyes!
Please take the time to visit, you wont be disappointed!
For photographers all around the country, in fact around the world, lockdown has been a very frustrating time. Indeed for those who make their living from photography this will be a very worrying time and I genuinely feel for them. For those who are semi-professional or have photography as a hobby or passion then the lack of opportunities to get out with their camera will be disheartening. Being unable to travel has put the brakes so to speak on travelling for Landscape photography, Sports photographers and Event photographers have nothing to shoot, and studios across the country are closed due to the Covid 19 pandemic.
During this unprecedented time I found myself itching to use my camera, it was all the more frustrating as I had only just recieved my new camera a week or so before lockdown started. Thankfully during the lockdown period there has been a glorious spell of weather across the country and I found myself, along with the rest of my immediate family, having the time to just sit in the conservatory or garden much more than we usually are able. During these relaxing times I have noticed and I am amazed at just how much activity goes on in the garden on a daily basis that we either just dont see or we just take for granted.
I have watched as the birds, and insects went about about their business every day, I have watched the flowers grow and bloom and there has even been a field mouse making an appearance now and then. It has been the birds though that have captured my attention, I'm no expert but in one day I counted 10 different species of our feathered friends visiting our garden. Collared Doves, Magpies, Blackbirds, House Sparrows and a wee Robin are regular visitors along with Jackdaws, Crows, and Blue tits. I was delighted to have a pair of Great tits nest in one of our bird boxes and I enjoyed watching them fly to and fro everyday, firstly building the nest then feeding the young and finally to see the fledgelings appear safe and well was a lovely moment.
So now I had subjects, out came my camera, I photographed the comings and goings of all the birds that visited. Some such as the tits and sparrows were very challenging as they are small and very fast, others like the Magpies and Doves are bigger and slightly easier to capture. However for me the stars of the show are the Starlings, they are very regular visitors to the garden and are always Quarrelling and squaking loudly they fight over the food and are very amusing to watch. Starlings are very common and are often treated as a bit of a pest, but I have enjoyed having them in the garden and I would miss them if they stopped visiting. During the breeding season (as it ihas been over the lockdown period) when the light is right they are quite beautiful birds with iridescent glossy green and purple plumage and bright yellow bills and they make for some really pleasing images.
I have really enjoyed watching the wonder and beauty that is right on my doorstep, I'm thankful that I have been able to spend some time capturing my garden visitors (and residents) and I will try in future to make the time to continue to watch them more often.
I urge you if you dont already do so, to take a look at whats going on around you everyday and hopefully you will get some enjoyment from it. In the meantime I hope you enjoy these few images of the Starlings that I'd like to share with you.
How does an amateur photographer guage the level of his/her photography? Having friends and family compliment your images and recieving likes on social media is all very nice, but with respect many of these compliments and likes will be from non-photographers therefore they are not really a true indicator of your photographic skills. Entering photo competitions can be fun, however in a very competitive environment unless your work is amongst the winning images, you still wont know at what level you are producing work. Not long after I started on my photographic journey, despite having reasonable success in my camera club competitions and recieving likes and comments on social media platforms I soon started to ask myself just what standard my photography was really at. After some discussions with photographer friends, it was suggested that perhaps I should try for a distinction which would give me some indication of the level of work I was producing.
What are distinctions?
Sometime early in 2012 I decided that I would indeed try for a distinction. This is where a group of experienced photographers and judges, examine and indeed scrutinize a panel or selection of your work to see if it achieves the standard required for that particular distinction. There are several organisations that provide various levels of distinction and after researching the various options available to me I decided to try for the 'Credit' award from the photographic Alliance of Great Britain (CPAGB). After attending advisory days and taking the comments and advice I was given on board, I was ready to have my work shown and assessed in April 2013. Once you have applied and submitted your work, the panel will examine and comment on your images and decide wether they think your work is at the level required. Should they decide that your work is of the required standard you will be recommended for the Distinction and will recieve documentation stating your success shortly afterwards. Assessments are held a few times a year around the country, for my assessment I travelled to Birmingham and was of course delighted to find on the day that I was successful in my attempt and could now use the designaton CPAGB after my name. Having enjoyed the process I went on to attempt another distinction, this time from the Royal Photographic Society and was pleased to be awarded my 'Licentiate' (LRPS). More recently I gained the second level of distinction of 'Excellence' from Artiste Fédération Internationale de l'Art Photographique (EFIAP). I must point out that the FIAP awards are earned by success in international salons and by meeting certain criteria, they are not awarded by a panel of judges in the same way as the PAGB and RPS.
The result of all this means that I now have a fair bit of understanding of what is required to be successful and what the process of attempting a distinction involves. Achieving any distinction is not easy and making an attempt requires a great deal of thought and effort, however I found the whole process very enjoyable and informative and would suggest that anyone who feels ready and is considering going down this route to absolutely do so.
So why bother? What are the benefits?
I will admit that success in the distinction processes and having letters after my name doesn't really help me sell pictures or raise my profile much, however the experiences and knowledge I gained going through each of the processes has in my opinion made me a better and more thoughtful photographer. It has helped me to try and look at my images in an unbiased manner by attempting to remove any emotional attatchments I may have to the image, and to look at them in a more balanced way. Getting a 'Licentiateship' from the RPS or a 'Credit' from the PAGB is far from a formality, you will have to show a wide range of skills and competence in your camera work, also if you are application is a printed panel then the print quality is also scrutinized. There is no tolerance for errors like blown out highlights or blocked shadows wether your entry is print or digital, but with prints any clumsy editing techniques will be highlighted especially on larger sized prints. Then there is the question of which paper to choose and the way the print is mounted. These are variables that must also be considered, with so many different papers avilable to photographers nowadays this is also a big decision. All of this will make you look at your work more closely, it will make you think more about the images that you are selecting for assessment and it will make you think while actually taking images in the future. If you are successful, there is of course the satisfaction of having achieved something that may have seemed like a distant dream at the start of your photographic journey. If you are unsuccessful then this should by no means thought of as failure, it simply means that the one or more of the images you entered on the day were not of 'the required standard' for that particular distinction.
Advisory Days
Society of Scottish Landscape Photographers e-book
The Society of Scottish Landscape Photographers (SoSLP) is a collective based around the principles of quality, environmental awareness and the promotion of Scotlands landscape. The Society boasts many of the finest landscape photographers that are active today. As a proud member of the The SoSLP I was pleased to be part of an exhibition scheduled to have run from 24th April to 16th May 2020, an exhibition which should have been the largest landcsape exhibition held in Scotland with over 130 works on display. Unfortunately the Covid 19 pandemic has caused the exhibition to be postponed until Spring 2021
Despite this disappointment the SoSLP are pleased to announce the release of the exhibitions official e-book which was was due to go live shortly after the exhibition. Its a superb book with over 190 pages full of wonderful images, some info about the photographers involved and I urge you to take the time to have a look..